About this web site
Striving for Transparency of Information
Do doctors prefer to prescribe drugs from pharmaceutical companies which they receive financial payments from? The realistic way to resolve this question is to promote transparency of information.
Approximately 90% of the sales of pharmaceutical companies are for drugs that require a doctor's prescription. Pharmaceutical companies need doctors to write prescriptions in order to increase their profits. Even though patients are the "consumers" of drugs, the "customers" of pharmaceutical companies are doctors.
In Japan, there was no such database where anyone could look up individual payments made to doctors from pharmaceutical companies. Therefore, it was unable to compare the amount of money an individual doctor received among pharmaceutical companies.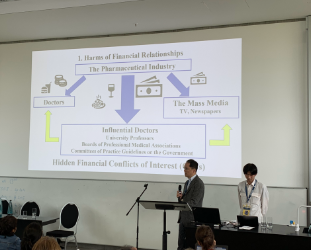 Receiving a total of 10 million yen from 10 companies and receiving 10 million yen from one company could not be compared, even though the strength of the interest is completely different.
In March 2014, the Science Council of Japan recommended that the Japan Pharmaceutical Manufacturers Association (JPMA), a trade organization of pharmaceutical companies, create a database. Since doctors have the authority to prescribe drugs and influence people's lives and health, this recommendation is reasonable.
However, the JPMA has not created a database for their payments to doctors. Public organizations such as the Ministry of Health, Labor and Welfare (MHLW) also do not have a database, so we are creating the database.
This database will greatly advance the transparency of the medical field in Japan. We hope that this database will be used appropriately, taking into account the purpose and objectives of disclosure mentioned above.
Requests for using the database
The database is created based on the information on payments to healthcare professionals published by pharmaceutical companies on their websites. Although the database has been carefully reviewed to ensure that it is indicated correctly, there may be errors or omissions in names, organization names, and monetary values.
If you notice any errors, please contact us using the Contact form.
If there is an error in the information published by a pharmaceutical company, please contact the pharmaceutical company.
When media or researchers use this database to publish articles or papers, please be sure to include the name of the database and the organization that created it (data for fiscal years 2016-2019 were created through a collaboration between the Medical Governance Research Institute and Tansa, while data for fiscal years 2020 and beyond were created solely by the Medical Governance Research Institute).
For doctors with exactly the same names, we have alphabetized them as much as we could distinguish them. In cases where we could not distinguish between them, we have marked them as "indistinguishable".
The data is compiled by each fiscal year, so if there is a doctor whose name is for example, "Taro Yamada a" in 2016 and 2017, it does not necessarily mean that the doctor is the same person.
In addition, the kanji characters in the names are rewritten in the "new font", which is a simplified form of kanji used in Japan since 1946, but there may be some errors when changing the font. If the name includes kanji in old fonts, please search for them in the old font as well.
Terminology
In 2011, the Japan Pharmaceuticals Manufacturers Association (JPMA), an industry group of major pharmaceutical companies, formulated guidelines in response to a movement in Europe and the U.S. to disclose information about the payments they make to doctors. Member pharmaceutical companies follow the guidelines and disclose information on payments made to individual doctors, medical institutions, and research organizations.
Category A: Research and development funding, etc.

Funding for research and development, including clinical research, clinical trials, and post-marketing clinical trials
Category B: Academic research funding, etc.

Payments made mainly to universities and research institutions to support academic research; they also includes fees for co-sponsoring conferences and other events.
Category C: Manuscript fees, etc.

Remuneration paid mainly to individual doctors, including fees for speaking events, manuscripts, and consulting services.
Key opinion leader (KOL)

Doctors who have influence in the medical industry; they are often professors at university hospitals, directors of large hospitals, or authorities in certain fields. Pharmaceutical companies work with KOLs to promote their products, with KOLs helping spread the latest pharmaceutical information to other doctors. They are sometimes called influencers.
Guidelines that summarize the latest information on the rationale and procedures for medical care, including prevention, diagnosis, treatment, and prognosis of diseases. The guidelines also clearly state recommended medications, and doctors often decide on a treatment plan and prescribe medication based on these guidelines. The guidelines are created by committees comprised of academic societies and others in each medical field.
An organization under the Ministry of Health, Labor and Welfare (MHLW), the PMDA is in charge of reviewing pharmaceuticals and medical devices, establishing safety measures, and preparing package inserts in accordance with the Pharmaceutical and Medical Device Act. The PMDA is responsible for approving new drugs for use in Japan.
Drug Pricing Organization (DPO)

After a new drug is officially approved, the DPO, comprised of doctors and researchers, determines its price based on a draft submitted by the MHLW. Organization members are selected by the MHLW.